Social Media – A Scammer's Playground
According to reports received by the FTC Consumer Sentinel Network, scammers are leveraging social media platforms to generate substantial profits. New data released by the FTC reveals that scams originating on social media have resulted in $2.7 billion in reported losses since 2021, surpassing all other contact methods.
Social media gives scammers an unprecedented advantage at little to no expense, reaching billions of users worldwide. They can easily create a fake persona, hack into profiles, pretend to be the user to deceive contacts, and spread misinformation, disinformation, and malinformation. Scammers learn to tailor their approach to what users share on social media. Furthermore, scammers may place ads using tools available to advertisers, systematically targeting users based on personal details like age, interests, or past purchases.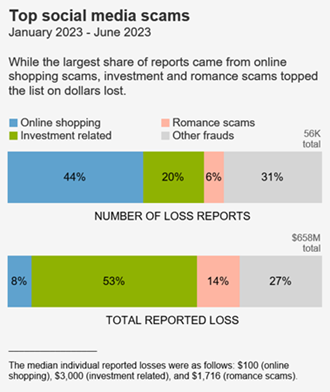 In the first half of 2023, social media was the contact method for over 38 percent of fraud cases reported by people aged 20-29. For people aged 18-19, that figure was 47 percent. The numbers decrease with age, consistent with generational differences in social media use. Data indicates that, while online shopping scams have the highest number of cases, the most significant monetary losses are due to scams that promote fraudulent investment opportunities via social media. More than half of the money lost to social media fraud resulted from investment scams. Additionally, there has been an increase in romance and investment scams, commonly referred to as "pig butchering." These scammers often advertise their fake investment successes and try to entice users to invest in fake websites and apps.
Social media users should set stringent security settings for social media accounts and critically evaluate sources of information consumed, seeking reliable and verified information. Verify information before sharing posts, clicking links, or promoting the post's content, including familiar and shared contacts. Bait-and-switch posts often originate from pages that are not associated with a specific individual, have comments turned off, and are relatively vague in the descriptions used in the post.